Caledonia Gladiators are pleased to announce the brand new Caledonia Club Lounge, our VIP section at the state-of-the-art PlaySport Arena, East Kilbride. This new area of the facility is available for every home game featuring our men's and women's teams and offers a unique fan experience unlike any other in the British Basketball League.
Club Lounge attendees will be invited to the arena 90 minutes before tip-off to enjoy complimentary drinks including bottled beer and wine, soft drinks, as well as our signature gameday cocktail. Throughout the gameday experience, a selection of hot and cold food produced by 5-star hotel Crossbasket Castle will be served alongside half-time refreshments for thirty minutes during the break in play. You will also have some of the best seats in the house, with premium courtside spots right at the action. After the game's conclusion, VIPs will receive further complimentary drinks within the lounge. Further to the above perks, car park spaces will be available right outside the Caledonia Club entrance (with limited availability).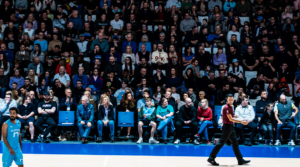 Tickets to the Club Lounge are available at £85pp for our women's games, and £90pp for our men's games (including all fixtures in European and British Basketball League competitions).
To purchase, you can visit the FanBase app or website, head to any Gladiators fixture of your choice, and select seats within our Block B Premium Courtside section – row AA only.
We look forward to welcoming you to the Club Lounge for our next men's and women's fixtures against CSU Sibiu and Essex Rebels. Secure your seats HERE!