The Caledonia Gladiators are pleased to announce a multi-season sponsorship agreement with the organisation behind Scotcoin – Scotland's first and only cryptocurrency.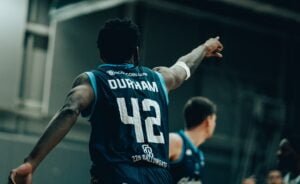 The Scotcoin Project Community Interest Company (CIC) will have a strong presence around the gamedays and will be visible on the jerseys of the Gladiators British Basketball League (BBL) and Women's British Basketball League (WBBL) professional teams.
Scotcoin is believed to be the world's only purpose-driven cryptocurrency, with community, environmental and social aims at its core. Its CIC seeks to use the cryptocurrency as a force for good, supporting a range of charitable and community projects that boost Scotland's ambitions for a fairer and greener society.
Last year, the cryptocurrency company announced its plans to publicly list by trading exclusively on ProBit Global, an international exchange with over two million users.
Callum Mackie, head of sponsorships and partnerships at the Caledonia Gladiators, said: "As Scotland's professional Basketball club, partnering with Scotland's first and only cryptocurrency is a natural fit. Scotcoin and the Scotcoin Project CIC emulate our ambition to have a nationwide presence and impact, and we are excited to be able to support one another."
Temple Melville, CEO of the Scotcoin Project CIC, added: "We are thrilled to be sponsoring Scotland's professional basketball club, the Caledonia Gladiators. We wanted to be involved with a dynamic and growing sport in Scotland and the UK, echoing our own developing profile in the crypto space.
"This latest deal is an exciting addition to our series of partnerships as we aim to support community-minded sporting organisations across the country. We want to offer our unconditional support for the Gladiators and wish them a hugely successful future."
You can check out Scotcoin HERE!