Chantelle Handy has been leading the way for the Caledonia Gladiators WBBL side so far this year, both on the court as a player and veteran leader, and from the sideline as one of Miguel Ortega's assistant coaches, alongside Donnie MacDonald. Prior to this year, Handy has had a triumphant career, playing across Europe.
The 35-year-old forward first attended High School in her locality, Prudhoe (Prudhoe Community High School), being born around 20 minutes away in Consett. During her time in England, she competed in the youth national ranks, and for Tyne & Wear Northumbria in WNBL Division 1 and 2. Then, she made the move from the Northeast of England across the pond, to attend the all-girls school of Mount de Chantal in West Virginia.
The County Durham-born player moved onto college in 2006. She studied at Marshall University, playing with their 'Thundering Herd' women's basketball team in NCAA Division I competition. The school had previously been attended by Mike D'Antoni (Former NBA Head Coach) and Hassan Whiteside (NBA Player). In fact, Whiteside attended the college in Handy's final year: the 2009-10 season.
During her time at further education, aged only 19, she made her debut with the Great Britain national team. During the 2006/07 EuroBasket Division B campaign, the English player averaged 2.5 points per game in only 13 minutes of gametime. She went on to represent the country at the 2012 London Olympics.
Starting her professional career with Greek side, Athinaikos in the 2011-12 season in the EuroCup and Greek league, Handy went on to continue her exciting play throughout Europe. She competed in Slovakia, Turkey, Sweden, Greece, Hungary, France, Poland, Italy, Belgium, Spain and most recently with EuroLeague side, TTT Riga in Latvia (21/22 season).
Amongst her European ventures, she returned to the Women's British Basketball League in the 2017-18 campaign for a stint with her local franchise, Team Northumbria. There, the 6'2″ star averaged 17 points, 6.8 rebounds, and 2 assists across 6 games.
Lately, she has been dominating the WBBL once more with Caledonia Gladiators, after signing with the newly-formed franchise in the summer to become the side's first signing, showing clear intent for what was to come. So far, she is averaging a similar stat line to her previous stint in the league, with 15 points, 5.7 rebounds and 2.7 assists per game.
She recently made the Women's British Basketball League All-Star Five following her impressive 16-point outing against Manchester Mystics on 17th December.
Upon her arrival in Scotland, Handy said: "The club is very ambitious and are looking to grow in the upcoming years. I am very grateful to be a part of that."
Speaking recently, she added: "I'm very lucky to have somebody like Miguel. Every day is a school day for me. His attention to detail is insane and he teaches me something new every training session. He's very aware of what needs to be done for a team to grow, he's brought his experience in for us."
Undoubtedly, Handy is one of the all-time greats within the British game, and she isn't showing any signs of slowing down. She added: "I don't fully know my plans for next season. I think I'll play one more year, but the goal is to get more coaching experience and get more involved in that side of things."
The 35-year-old veteran has been of great assistance to the younger players breaking into the squad. Teenage WBBL & SBC Gladiator, Kerry McGhee said: "I used to watch players like Chantelle playing for GB when I was a younger player, now getting to play with her, it's an amazing learning experience. Her on-court knowledge is next level and every training session with her is great."
Recently, the GB international has been expressing her artistic side, too, working on customised shoes for many within the Gladiators organisation and beyond through her new venture, Time Creates Customs.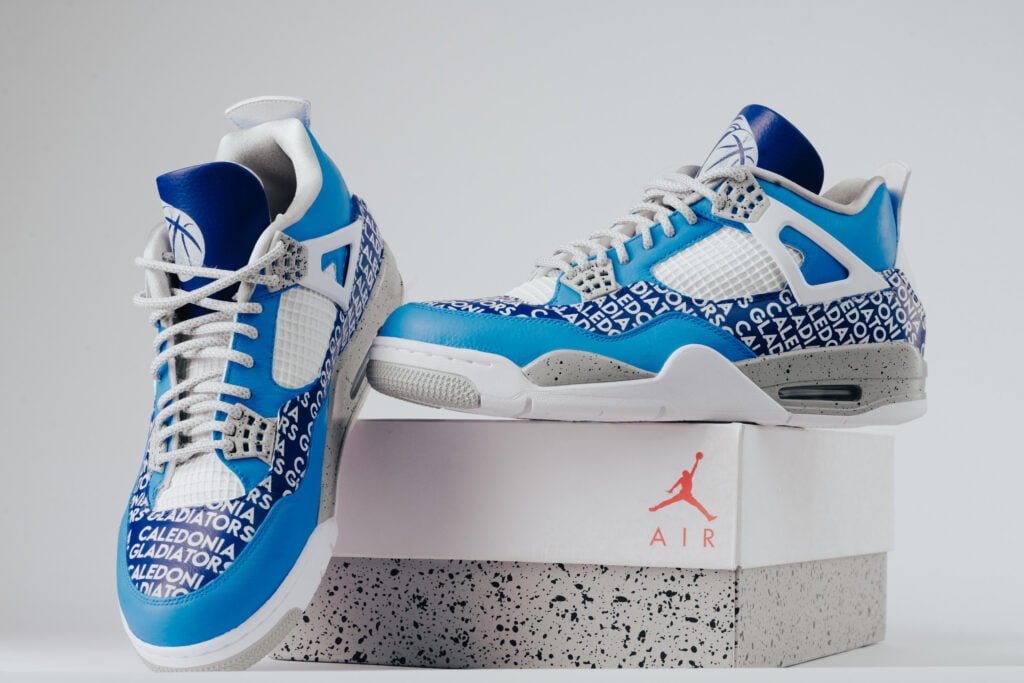 To watch Chantelle and the squad play next, you can buy tickets to our next outing against the travelling Cardiff Met Archers this Saturday, 28th January at The Lagoon, Paisley, in the WBBL Championship. Get your tickets HERE. It's set to be an exciting one for sure!