Caledonia Gladiators are delighted to announce that Club Memberships are here!
We are rapidly progressing towards new heights as the club prepares to move into its state-of-the-art new facility at Playsport East Kilbride.
Caledonia Gladiators were recently crowned as the Mens British Basketball League Trophy winners for the 2022-2023 season, thanks to a thrilling buzzer-beater from David Sloan in front of a sell-out crowd of 6,000, the women also made a fantastic 2nd place finish in the league. This demonstrates the massive potential for the club in the sport. Additionally, the mens participation in the Champions League qualifiers in Antalya this September and women's in the FIBA EuroCup is a testament to our ambitions on the international stage.
PRE-SALE
Previous Club Members have been emailed so they can purchase their Memberships.

GENERAL SALE
Club Memberships will go on General Sale at 1PM on Monday 7th August
PRICING
Platinum seats are our middle section, with gold seats the outer section of the tiers.
Premium courtside is all seats at the front row adjacent to the playing area facing the benches.
All courtside seats will be provided with a concierge drinks service.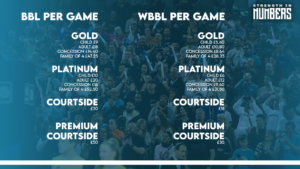 Processing fee of 5.15% + 10p + VAT
BENEFITS
Secure YOUR seat!
BBL Club Memberships gain you access to every League and Trophy game and WBBL for every league game and Trophy first round game.
Additional games can be purchased at reduced Club Membership rate.
Premium entry to the venue with a separate queue
FREE mascot draws – lead the players on court!
Special events with meet and greet/photo exclusives
Flexible payment plans
Courtside seats include concierge service.
Discounts for our…
Matches – one in four games FREE (25% discount or 30% if combined over both teams)
Playoff and European games
Watch-parties
Away game tickets
Merchandise
Gladiators basketball camps
Gladiators Basketball Membership
Events
Awards night
Game day experiences
Of course, you will get your physical club membership card which will enable you access to our ever-growing list of partner discounts including:
Playsport Golf – 20% off
Kaos Skate – 10% off
Sandman Signature Hotels – 15% off any advance purchase room and full flexible rate.
Village Hotels – 10% off
Calderwood Dental Practice:
20% off New Patient Consultation fee- includes full mouth examination, and radiographs required
20% off Teeth whitening
Anytime Fitness – 15% off
 & Many more to be announced.
VIP Hospitality is available at an additional £45 per person per game as an add on for any ticket.

Complimentary Food & Drinks
Private lounge access pre and post game
Premium entrance to arena
Terms and Conditions
Club Memberships are based on 20 BBL and Trophy games, 11 WBBL and Trophy games or both combined. Any additional tickets will be available at your season ticket rate.
Whilst requests will be met wherever possible, allocation of Club Memberships will be solely at the discretion of the Club.
In the rare occurrence that when purchasing a ticket for both teams and your ticket has already been purchased on a separate ticketing map we will allocate your tickets as close as possible to your selection. If you disagree with the seats provided we will work with you to provide an alternative that is acceptable.
The club reserve the right to deny any Club Membership holder entry to the home venue.
The club reserve the right to revoke a Club Membership at any time.
Child – 16-years-old and under as at 31/08/2023.
Children under the age of 3 as at 31/08/2023 do not require a Club Membership, as long as they can sit on a parent or guardian's knee.
Concession Tickets – Over 65 as at 31/08/2023, registered Disabled & Full Time Students (All discounted tickets may be asked for ID on entry to the home venue).
Club Memberships will be transferable, as long as they are used by someone in the same category
There will be a £25 replacement fee for lost/stolen cards.
Please note we do not accept Club Membership cancellations under any circumstances, once the seat has been allocated and accepted. You will be liable for the full cost of the Club Membership.
Please note we do not provide refunds on Club Memberships in any circumstance, you are liable for the full cost of the season ticket.
A £5 charge (per Club Membership) will apply for reprinting lost Club Memberships on a game night. However, if they have been stolen we ask that you provide a crime reference number so that we can waive those charges. Alternatively you can download the app and your Club Memberships will be there for use.
In applying for a Club Membership, you recognise and accept that the Caledonia Gladiators have the right to: – Offer ticketing promotions during the course of the season, which may or may not alter the relative value of the season ticket. Remove any section of seating from use at any time, for any reason, without penalty. Reschedule season ticket games or substitute alternative fixtures.
Food and beverages must be obtained from the home venue.
Recording equipment is strictly prohibited in the home venue.
Keep your eye on the ball at all times when in the home venue.
Ticket holders will have bags searched at every game.
Food can not be brought into the Arena.
One bottle of water per customer can be brought into the Arena, this must be sealed. Any unsealed bottles will not be allowed to be taken in.