Caledonia Gladiators Basketball is thrilled to announce the appointment of two esteemed Scottish coaches, Darryl Wood and Donnie MacDonald, as the Head Coaches of the High Performance Programme. Their exceptional coaching backgrounds and unwavering dedication to the sport, particularly youth development, make them the perfect duo to lead our team into an exciting new era.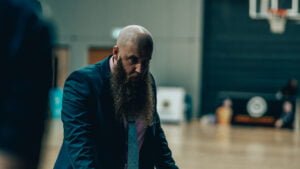 Darryl Wood brings a wealth of experience to the role. He is currently Gareth Murray's assistant coach for the BBL Caledonia Gladiators and will continue to contribute to this role for the upcoming season. He has an exceptional understanding of player development and strategic game planning. As Head Coach, Darryl will play a pivotal role in nurturing the talents of our athletes and preparing them for success both on and off the court.
Donnie MacDonald's coaching prowess is second to none, making him an invaluable addition to the Gladiators coaching staff. Like Darryl, Donnie has been an assistant coach to Miguel Ortega and will also remain on the sidelines with our professional women's side. With an impressive track record of mentoring young players and guiding them towards their full potential, Donnie's expertise will be crucial in shaping the future stars of the Caledonia Gladiators High Performance Programme.
Darryl and Donnie will coach the men's and women's High Performance teams respectively. The new programme is a cornerstone of our club's commitment to excellence and growth. It aims to provide a conducive environment for talented athletes to hone their skills, compete at the highest level, and pursue opportunities beyond the local circuit. Under the leadership of Coach Wood and Coach MacDonald, the programme will undoubtedly flourish, propelling our athletes to achieve their dreams.
Caledonia Gladiators CEO Tony McDaid said:
"We're delighted that Darryl and Donnie will lead the Caledonia Gladiators' High Performance Programme. One of our main commitments is to work in partnership with local clubs and Basketball Scotland to create an environment where we can support young Scottish players to play at the highest possible level. Both Daryl and Donnie have a proven track record in supporting players to progress in their basketball journey."
The club eagerly anticipates the new direction set by these exceptional coaches and looks forward to witnessing the growth and accomplishments of our young athletes under their guidance.