Caledonia Gladiators can officially that veteran leader, Jonny Bunyan, will remain in Gareth Murray's squad, for his 13th season with the club. The dynamic guard, known for his three-point shooting, played a pivotal role in the team's success as captain last season, leading them to victory in the BBL Trophy Final and securing a commendable fourth-place finish in the Championship.
Alongside his playing commitments, Jonny will join the club's backroom staff as a Basketball Development Officer, working alongside a committed team to grow the name of Gladiators in East Kilbride and beyond.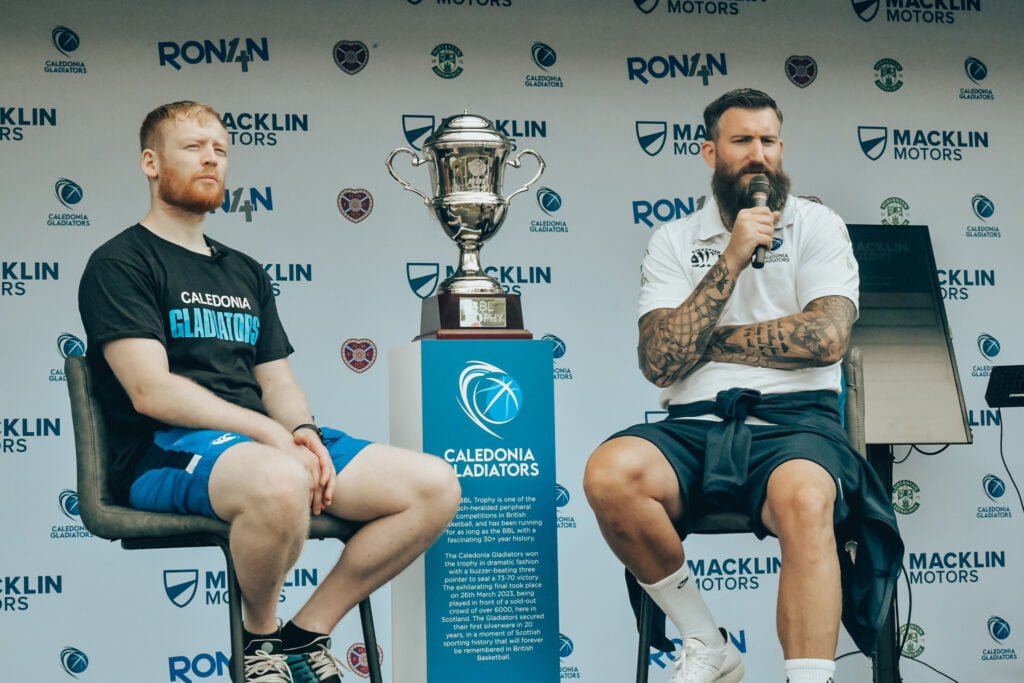 The 6'0″ Scottish guard has spent his entire professional career in Scotland, following in the footsteps of his brother, Keith, who played with the Scottish and Edinburgh Rocks and won the franchise's last trophy in the 2002/03 season – the BBL Playoffs.
Over his career, Bunyan has proved to be an elite three-point scorer. In the 21/22, in BBL Championship action, Jonny made an impressive 44.6% of his 3-point attempts, in a particularly good shooting year.
Scotland national teams have remained consistent throughout Jonny's 12-year pro career, having represented Scotland at both the 2018 and 2022 Commonwealth Games, earning a commendable fourth-place spot in both.
Last season, the 31-year-old fan favourite contributed around 13 minutes of action a night across 33 games, putting up 2.1 points and 1.2 assists per game.
Gareth Murray, Jonny's head coach and former long-time teammate, said: "Over the past 12 years, Jonny's unwavering dedication has been nothing short of extraordinary, consistently embodying the heart and passion that define our club. Jonny's invaluable experience and leadership will continue to be a vital part of the playing squad. His journey has brought him into a full-time role within the club, where he will continue to contribute both on and off the court. Alongside his responsibilities in the playing squad, he will also take on a full-time community role, further showcasing his commitment to the club's values."
He continued: "Throughout the years, we have shared dreams of moving to a new arena and competing in Europe. This year, those dreams became a reality. As captain, he proudly lifted the trophy in front of 6,000 fans in Glasgow. It was a moment that undoubtedly stands as the highlight of his career."
Bunyan joins Kyle Jimenez on the confirmed squad list for the 23/24 British Basketball and Basketball Champions League campaigns, whilst Erin McGarrachan will continue her tenure on the women's side. Fans can expect plenty of signings, both new and familiar faces, to be announced in the coming weeks.