Scotland's only professional basketball team will build a state-of-the-art professional stadium in East Kilbride in the coming years
Players from Scotland's only professional basketball franchise Caledonia Gladiators visited Duncanrig High School ahead of the highly anticipated upcoming British Basketball League (BBL) Trophy Final.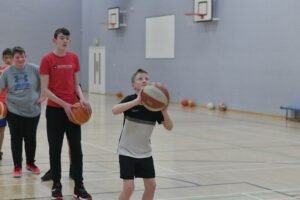 Players Jonny Bunyan and Kyle Jimenez were among the special guests to visit the local school in recent days, donating branded merchandise including foam fingers, foam gladiator helmets and clappers. The players also led a basketball coaching session for the pupils.
The club, which announced it will be moving its facilities to East Kilbride this summer, will compete in the club's first BBL Trophy Final in nine years against Cheshire Phoenix on Sunday 26 March in front of a sell-out 6,000 crowd at Emirates Arena. Youngsters from the school will be there cheering their new home side.
Gareth Murray, Caledonia Gladiators Head Coach, said: "We can't wait for the trophy final. Cheshire Phoenix is a tough operation but Gladiators are playing well and we're building momentum with every match.
"Playing to a sell-out crowd on home soil is a superb opportunity for us to make history for the club. Having support from kids, families and sporting fans from all over Scotland means the world to us and hearing that roar of the home-crowd will be the added motivation for us to secure the win."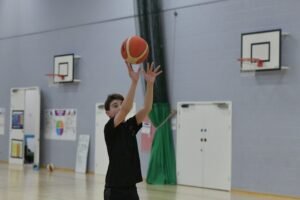 Caledonia Gladiators secured their place in the BBL Trophy Final after defeating Derby Trailblazers 83-65 earlier this month in the semi-final.
It is the first time they have reached the Final since they lost 83-76 to Worcester Wolves in 2013/14. It is also a chance for the club to win their first silverware since they won the BBL Playoffs in 2002/3.