Caledonia Gladiators 86-79 Surrey Scorchers
By Robbie Macdonald​
Caledonia Gladiators began life at their brand-new PlaySport Arena with a hard-earned 86-79 victory over Surrey Scorchers to bounce back from their European disappointment.
The record 1600 sell-out crowd were not left disappointed as the Scottish outfit claimed their second win of the season, entertaining both those in attendance and watching on Sky Sports.
Gladiators started just as they would have hoped, racing into a 6-0 lead in the opening two minutes.  Fahro Alihodzic opened his side's account at their new home with an early layup before adding two free throws seconds later. This was soon added to by summer signing Patrick Whelan, who drove in brilliantly to extend the advantage.
Surrey hit back with a seven-point scoring run to quickly turn the game on its head, but the hosts did not take long to regain control as Ian Dubose completed his three-point play after drawing a foul from Cameron Gooden. The lead soon became 11 as Caledonia took full control with Lukas Palyza scoring five in the streak including a beautiful three-point jump shot.
Substitute, Andrew Lawrence did his best to pull Scorchers back into the game with eight points of his own, but Gladiators held firm and finished the quarter with a 22-15 lead.
The home side found their form at the start of the second period, Fraser Malcolm scoring a three-pointer of his own just 11 seconds after the stoppage. They continued to attack again and again soon finding themselves comfortably 34-19 ahead but the visitors refused to roll over and cut the deficit to nine with some impressive shooting.
A TV timeout halfway through the quarter gave Gareth Murray's team a chance to regroup and that, they did as Whealan's three-point jump shot halted the visitor's momentum. This was followed by a frustrating few minutes for Gladiators though, and although Surrey never managed to quite pull level, the Scottish head coach was left wondering how his side concluded the half with just a 46-38 lead.
Trent Buttrick was the star of the first half for Caledonia leading both points and rebounds for his side with nine and six respectively. Lawrence was the main man for the away team with ten points and three assists, ensuring Surrey stayed well in the tie going into the break.
The second half started similarly to how the first ended, both sides trading baskets with neither managing to put together any kind of dominant spell. However, a lapse in concentration following a timeout was punished by Surrey who pulled themselves within three points as Lawrence added another three for his side.
Lloyd Gardner's team pushed for a leveller but an outstanding steal and layup from MihailoJovičić flipped momentum back in the host's favour. A lovely offensive rebound and layup from his Caledonia teammate Alihodzic a minute later ensured the home team went into the final quarter with a 65-58 advantage.
Gladiators started that fourth period well, pulling away from a tired Scorchers team with some free-flowing offence. An early six-point scoring run gave Murray's side a comfortable advantage to hold onto. Surrey just would not let up though and kept nipping away at Caledonia, managing to cut the deficit to five points with three minutes to go. This could've been worse as J. Hunt drove towards the basket, but his missed layup was punished by Buttrick who added two more from the free throw line.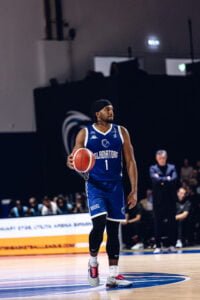 There was a tense feeling throughout the stadium as Caledonia struggled to kill off their opponents, but the passionate home support helped their side to victory, cheering on the team till the very last second at the fantastic new arena in East Kilbride.
Buttrick continued his first-half form throughout the rest of the game and was the clear candidate for MVP with 15 points, ten rebounds and two assists.
League action continues next Thursday for the Gladiators as it is the turn of the Plymouth City Patriots to conquer the Scottish outfit at their new home. Tip-off for that one is at 7:45 pm at the PlaySport arena and tickets can be purchased at https://app.fanbaseclub.com/Fan/Fixtures?fanstoreType=Fixtures&clubId=210&isUpcoming=True.